start a seed library
Starting a seed library is an incredible way to make connections, encourage seed and food security, and share knowledge within your local community. Enjoy the following tip and resources to support your project.
Reach out if you have questions or want to share your success story! [email protected]
photo credit: Justine Hernandez, Seed Library of Pima County Public Library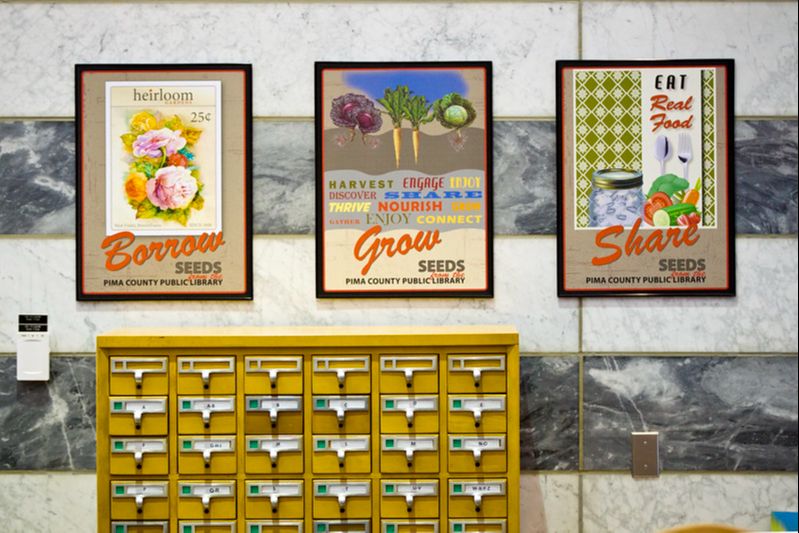 Rebecca Newburn, with Richmond Grows Seed Lending Library, organized an incredible network of seed savers and resources to support the movement of place-based seed saving and sharing. All resources are to be used and shared freely! We recommend starting by clicking on the "Start a Library" tab at the top.
The 11th Annual Seed Library recordings are available on Youtube! Subscribe to their channel and hear from inspiring individuals, like Keynote Speaker Beata Tsosie-Peña, the founder of Española Seed Library, poet, activist, and the Organizational Director of Breath of My Heart Birthplace, a non-profit licensed birth center and midwifery practice based in Española, New Mexico!
How to Start a Seed Library
Tips for Budding Seed Libraries:
Start small. You don't have to have hundreds of varieties, a fancy chest of drawers, or years of personal seed saving experience to launch a successful seed library. Get the basics in place and let things grow over time!
Be enthusiastic. Passion goes a long way with grassroots projects. When pitching your project to potential locations or wrangling helpers from the community, your enthusiasm for seeds will always seal the deal.
Don't go it alone. Seed librarians will tell you, the biggest challenge they face is burnout. Build authentic relationships early and share the workload.
Stay informed and inspired. As a seed librarian, you'll be the go-to person in your town for the local seed movement. Keep your finger on the pulse by reading books, watching films, and following social media connected to seed saving. We recommend the film SEED: The Untold Story and the book Seed Libraries: And Other Means of Keeping Seeds in the Hands of the People by Cindy Conner. To learn the history of the seed library movement, check out this article.
Have fun! If you're not laughing and smiling at least half the time, you're doing it wrong. Seeds bring people together around hope and joy, so make sure that is in your heart as you work. The rest will fall into place.
photo credit: Paulina Borrego, Mass Aggie Seed Library